I often look out my window while washing dishes, to see if I have any hummingbirds at my feeder.
Yesterday, something else caught my eye.
Do you see it, too?
Here, take a closer look.
photo credit: http://ngm.nationalgeographic.com/
I wondered if my little praying mantis had visions of catching a hummingbird, or whether she was too smart for that?
I think she was waiting patiently for one of the nasty red wasps that frequent the feeder.
A couple weeks back, I killed a red wasp that spent two whole days chasing hummingbirds away.
Evidently, hummingbirds can fight, fight, fight among themselves for a turn at the feeder, but they're afraid of red wasps.
I am, too.
I used the "sprays 20 feet" wasp spray to kill it.
I watched this little mantis for a couple days, sit in the blazing hot sun and not catch a thing.
I finally took matters into my own hands and gently moved her to a place in my garden where she'd be more likely to catch a meal.
I say "she" because it didn't try to fly away when I picked it up.
Turns out female mantises cannot fly with their wings.
I just love Google! I learn something new every day.
I digress.
I hope this little female stays around and lays a nice little bundle of eggs.
The only thing better than a grown mantis in the summer is a hundred teeny-tiny mantises in the spring.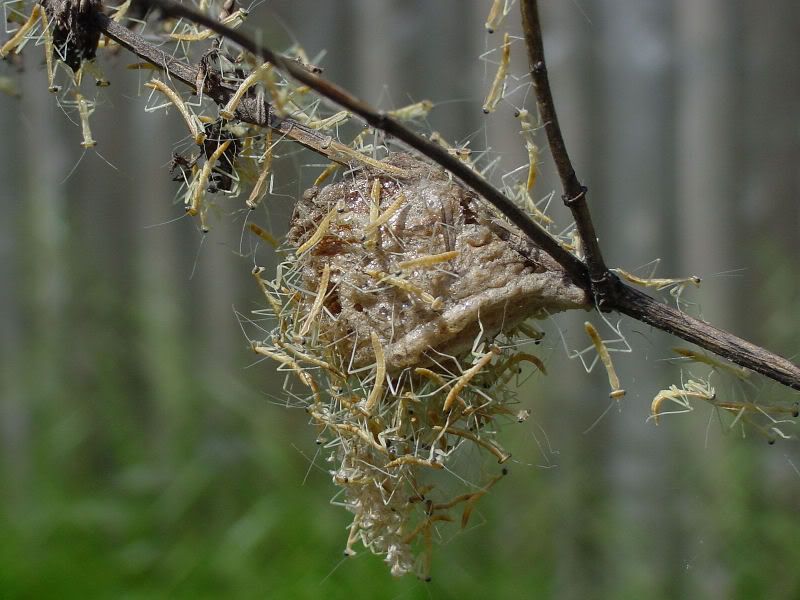 photo credit: http://ourdailylegacy.blogspot.com/