"There's a hummingbird in the garage."
Why does a hummingbird in my garage bring me dread?
Because it means I'm going to get hurt.
Because a cuss word or two might sneak out of an otherwise cuss-less vocabulary.
Because I'm going to get hot and sweaty.
Why is there a hummingbird in my garage in the first place?
There are certainly no flowers.
The red widget you see pictured below is the reason.
It's the release handle for the garage door opener.
The government mandates that it must be red, for reasons unknown to me.
What I do know is, the hummingbirds think it might contain food.
But again, why is the hummingbird stuck in my garage?
You'd think if I put the all the garage doors up and opened the windows, that he'd be on his merry way once he realized the handle was not a flower.
No can do.
Hummingbirds natural instinct to escape danger is to fly up.
What is "up" in a garage?
The ceiling.
A white ceiling.
"Down" seems to be beyond these little fireball birds.
Here's where the pain and cussing and hot/sweaty part comes in.
Since I love birds, I endeavor to help poor Mr. Hummingbird get out of my garage.
I get the pole and net setup we have to clean our pool.
I then begin crashing around the garage, tripping over everything in my way, bumping into vehicles; all the while trying to capture (but not crush) Mr. Hummingbird.
Our garage faces west.
The spring and summer sun shines right in, making both bird and bird rescuer overheat very quickly.
Yesterday, was the first "There's a hummingbird in the garage" of the season.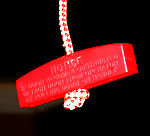 It ended happily.
Mr. Black-Chinned Hummingbird finally petered out. Poor little thing came hovering slowly to the ground like a tiny helicopter.
I scooped him up gently and brought him in the house.
photos by Pearl
Above, you see what makes it possible for the bird to be released within a matter of minutes.
I fill a liquid medicine dispenser with hummingbird nectar (1 part sugar to 4 parts water).
I gently slip the end over his tiny beak and he begins feeding right away.
Smart bird!
That's not the end of my story.
I've decided to make a hummingbird capture net.
In all the years I've rescued the poor birds in my garage, I've never actually caught one in the net. It's not built for catching anything but leaves off the bottom of my pool.
What always ends up happening is I outlast the hummingbird. The bird always gets worn out and comes to the ground.
It's so sad and stressful for the bird, not to mention hard on my shins from banging into things.
I hearby declare the Hummingbird Rescue Net my idea.
Will folks buy it?
You bet your sweet pocketbook they will.
SSsshhh, don't tell Lee I'm one of those Americans. :)
Until then, I've decided to buck the government and pull the release handles to the garage door openers up, and out of sight. Better yet, I could close my garage doors.
Necessity is indeed, the mother of invention.