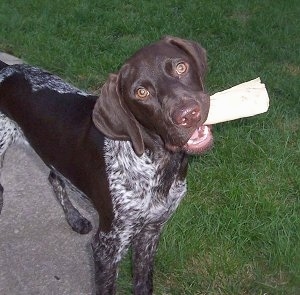 Just as a reminder, when the title is '

Hey Y'all

',  I'm fixin' to blow a gasket. If I cursed, I'd curse a blue streak. Sailors would blush.  
These are not my pictures.  They could be though.  
Yesterday evening my chickens were agitated and all looking in the same direction, so I went to investigate.
Two pretty German Shorthair Pointers were running full bore on the street above our land. I, being the sucker that I am, jumped in my truck to retrieve them before they made it to the highway.  All the while, I'm praying (really!)
"please let them have tags, please let them have tags"
.  I guess I gave God too short a notice, as neither girl was wearing a tag or collar.  Shoot!
Both dogs were covered in cactus spines, tongues hanging all the way out, and glad to see a friendly face.  They hopped right in the Expedition.  I called my neighbors who are having work done on their house and aren't living there to see if I could put the dogs in their yard until I found their owner.  I did just that.  I fed and watered them and pulled out all the cactus spines. Lovely dogs.  I made a plan--go home, check Craig's List lost and found, post a 'found'. Tomorrow, I would wake up and find that my Craigs List ad had been answered and I wouldn't have to haul both dogs to the vet to check for a microchip.
As I left the dogs began barking.  They didn't stop barking all night long! 
Let the rant begin. What this means is, I do a lot of talking to myself.  I do a lot of yelling at thin air.
Their barking was so loud that I had to turn on a fan to keep from hearing them.
Why can't people put collars and tags on their dogs! What are they barking at?
Morning arrived and I went over to let the workers at my neighbors house know about the dogs.  I ask them to be sure not to let them out.  I would be back in 20 minutes to take them to the vet.  One guy says,

"Why don't you just let them go, those huntin' dogs could probably find their way home."

  Red flags should have been waving in my face, but I hadn't had my coffee.  I looked out the window 5 minutes later, only to see two Pointers sprinting across my pasture!  Joe Bob construction worker says, "They jumped the fence." when I get over to the house.  I suppressed the desire to let the air out of his tires.  
In my truck again, I go to find them.
"CeeCee, just let them go.  Let someone else worry about it."
 I just can't.  They were running toward the highway again.  When I finally catch up with them, they are soaking wet, covered in cactus spines again and bleeding.  They also are so beat, that they can't get in my SUV.  In my race to catch them, I failed to put a tarp down in the back of my vehicle.  By the time we reach the vet to check for a microchip, the inside of my truck is covered in mud, blood and wet dog.  These dogs do not sit nicely in one spot.
"Please let them be chipped, please let them be chipped."
 --NOT!  Aaarrrgghhh!
Back in the truck.  More blood, wet and mud. The vet informed me that part of the blood I was seeing, was because both dogs are in heat! Really?  How nice. 
Now what!  I can't take them back to the neighbor's yard.  Joe Bob might let them out to find their way home again.  

I still need to let the air out of his tires.

 Maybe he wants to clean up my truck!  Why the heck can't folks put a simple tag on their dog!!! Dogs can't talk!!
Once home, I let the dogs out in my garage and try to form a new plan.  I have never, ever, called animal control, but I did today.  They never called back.  
I checked Craig's List again, and called all the local vets and dog boarding places.  I want to believe the best about people.  
"Maybe they were being looked after by a kid while their owners went out of town and they got loose.  Maybe they just got baths and got loose.  Maybe....."
Angels must have whispered in my ear  "
Hey, CeeCee, go back to Craig's List and check the Pets section instead of Lost and Found" 
as I surveyed the work ahead of me in my truck.  Angels were needed, because I was thinking of all the devilish things I was going to say to the owners if I ever found them.  Why was
I
looking for them?  Shouldn't they be looking for me?  I swear, every time I find a dog, I end up locating them through hours of investigative work.
There, from 3 weeks ago, is a "lost" notice in the 'Pets for sale' area.  Three weeks!  The dogs look waaaayyyy too good to have been missing that long.  I immediately emailed the person and waited.  I didn't have to wait very long.  She called within 20 minutes.
Here's our conversation.  It happens to be nearly the exact same conversation I had with the owners of the last dog I found. I'm not kidding.
Her: Did you find my silly dogs?
Me: Yes, how long have they been gone, you must really miss them

.
Me: Huh?  Your ad on Craig's List says they got loose on July 6th

.
Her: Oh yea, they get loose all the time.  We can't seem to keep them in the yard.  Don't know how they are getting out.
Me: Oh.  If this happens all the time, why don't they have collars and tags?
Her: Oh, they just chew them off each other, so we don't even bother.
Me: Uh, when I had them at the vet, they said they aren't microchipped either. Oh, btw, they vet said they are both in heat.
Her: Great!  I hope they didn't find any male dogs.
Me: Is this their first heat? How old are they?
Me: Microchipping can help if someone finds your dogs and they can't wear collars.
Her: We've thought about doing that if we ever get them fixed.
Me:

(((Speechless)))
CeeCee, don't scream at this woman!  
Her: Can I come get them now?
Me: Yea, please

(gave directions).
I could tell when she came to get them, that she really wished I hadn't found her.  I could tell she was tired of them running off.  She had four boys in the car, all under 10 years old.  Of course she was tired.
My rant, in a nutshell is this:
Don't own a dog if you really don't have time for it. Certainly don't own two dogs!
If you do own a dog,

PUT  A DANGED COLLAR AND TAGS ON IT!!!
DOGS CANNOT TALK!  DON'T MAKE ME SEARCH YOU OUT BY HEADING TO THE VET EVERY TIME YOUR DOG GOES MISSING.  I COULD CALL YOU THE MINUTE I FIND THEM INSTEAD OF HAVING TO TAKE MY TIME TO PUT THEM IN THE TRUCK AND HEAD OUT IN HOPES THAT THEY
MIGHT
HAVE A CHIP.   
IF YOU LOVE YOUR DOG, AND YOU WOULD WANT THE VERY BEST FOR HIM, DON'T MAKE THE PERSON THAT FINDS YOUR DOG, JUMP THROUGH HOOPS TO FIND YOU. I DON'T CARE IF YOU JUST WASHED THEM, OR THEIR TAGS KEEP YOU AWAKE AT NIGHT, OR THEY CHEW EACH OTHER'S COLLARS OFF--FIGURE SOMETHING OUT.  KEEP A TAG ON YOUR DOG!!
I feel better now.  Thanks for listening.