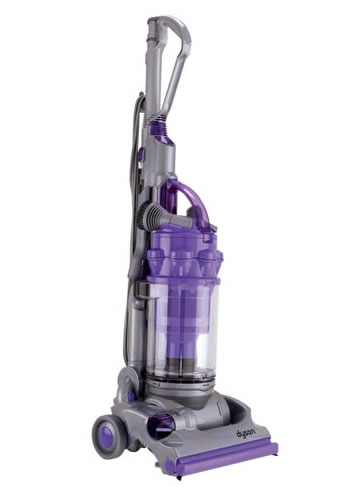 This is the year of dead electrical appliances at my house.  The blue vacuum is the Bissel Healthy Home---it died at our house at age 3.  Well, really the body gave out.  The motor still worked just fine.  The canister was broken the first month I had it and they replaced it.  The second time it broke, I got out the duct tape.
Honestly, it was a pretty darn good vacuum; but when your canister is spewing dust as you vacuum, it's time for a new one.  The problem was the cheap plastic.  If you bopped the thing on the edge of the trash can to get the hair and dust out, it cracked.  The little trap door on the bottom of it broke a connector.  There was nothing holding it on but suction.  
Years ago, I bought a cheap ($30), no name vacuum at Home Depot.  It was small and bagless.   My intention was for the kids to use it upstairs in their rooms (y'all stop laughing, a girl can dream!).  Anyway, it's been my primary vacuum for months and it's doing a great job.  The problem is, the filter cannot be replaced and it has about had it.  
It's time to invest some more money.  How much or how little is the question.  I have had my eye on Dyson for some time.  The price is prohibitive, but everyone that has one thinks it's been worth it.  My neighbor has the Dyson Ball/Animal Hair one. I borrowed hers.  Here's my take on it:
*Easy emptying of the canister
*Made of quality plastics (if there is such a thing)
*Very low to the floor for good animal hair suction
*Off/On beater bar switch
*Only clean filter once every few months instead of every vacuuming cycle
*Not self propelled--yes, I consider that a plus.
*A 30 ft. long cord---hurray!!! I hate plugging/unplugging in every room.
*Very expensive to fix, and you would have to send it away
*The 'ball' thing is a good idea, but I fought it the entire time.  My wrist ached by the  time I was done.  Hurts more this morning.
*Wouldn't fit under the kitchen cabinets in the crumb gathering area.
*A little hard to release so it would recline to vacuum. The plastic in that area  looked a little less quality also.  I would worry that all the work it gets would cause  that part of break.
*The vacuum head had soft, rubber bumpers on it to protect baseboards.  In our house, a majority of our walls have stone all the way to the floor.  The stone was going to eat up the bumpers if I wasn't careful.  I'm sure for most folks, that bumper would be a great Pro.
I will seriously look into purchasing a Dyson, just not one with a ball.  It shouldn't hurt to vacuum.  I already have to talk myself into doing it each week. Pain is a good deterrent to vacuuming.  If I want to pay $300 to hurt, I'll hire a personal trainer.